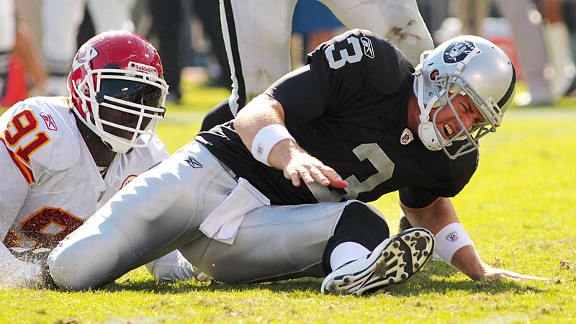 I'm pretty awesome, so I'm not used to failure. I had a GPA well north of 3 throughout high school and college. I bowl well. I know how to work a VCR. My Monster Bash skills are immaculate.
So during the last two weeks of NFL picks when I've struggled mightily, I had to look in the mirror and examine what I could do differently to turn my failures into successes, so that my four readers don't abandon my blog.
Well, I came up with a new game plan. Just call me Dick Lebeau. Anyway, every week, I guess the lines with Bill Simmons and Cousin Sal, seeing how I match up with two great football minds. Well, I never win, but I always manage to steal a few of the closest guesses.
So this week, I decided to guess the lines with the guys. But I decided that I'd pick my games based strictly on where I thought the lines would be. If I thought Pittsburgh would be favored over Baltimore by 2.5 and they were actually favored by 3.5 (which is all true), I'd pick Baltimore, since the Ravens were getting an extra point over what I thought the line would be. Conversely, if I thought Atlanta would be favored at Indianapolis by 7.5 and they only had to give 7 (which is also true), I'd take the Falcons. I only hit two games dead on (Miami @ KC, St. Louis @ Arizona) so, technically, I only had to make two real picks. Also, I did stray from my newfound rule for one game. You'll know why when I get there. Onto the picks....
Home team in CAPS
San Francisco (-3.5) vs WASHINGTON
Where I thought the line would be: SF -5.5.
I'm a little surprised by this line, but in a good way. I get to pick my 49ers, who only have to give 3.5 going on the road. Maybe Vegas thinks San Fran will struggle going west coast to east coast for an early morning game, but they've already done it twice this season, beating Cincinnati and Detroit, both by more than 3.5. Both of those teams are better than the Redskins and the way Washington is playing, they should be lucky to get to double digits. After all, they did just get shut out by one of the NFL's worst defenses in the Buffalo Bills.
NY Jets vs BUFFALO (-1.5)
Where I thought the line would be: Buffalo -3.
The general rule of thumb is that if you're at home, you "give 3 points." So, I figured that the Bills and Jets were pretty evenly-matched teams and the Bills, being at home, would be 3-point favorites. Apparently, Vegas thinks the Jets are a point and a half better than Buffalo. Um, no.
Buffalo's offense will challenge the Jets' defense and the Bills' defense, coming off the aforementioned shutout of Washington, should be equipped to slow down Mark Sanchez, at least a bit. I really hope that, after this game, the Bills get some respect from America, because they're good enough to deserve it.
Seattle vs DALLAS (-13)
Where I thought the line would be: Dallas - 10.5.
This is the one game I went against my theory on, but for obvious reasons. The Cowboys destroy bad teams and are going to be looking to make a statement after being embarrassed by division rival Philadelphia. Since my SCLotW is 0-3, I can't officially make this the SCLotW, but I'm making it the SCLotW. I mean, did you see Seattle last week?
Atlanta (-7) vs INDIANAPOLIS
Where I thought the line would be: Atlanta -7.5.
For the record, the line moved to -7.5 by the time I picked the Falcons, but it opened at 7, so I'm sticking by my guns here. Indy is just so bad. If they can't be within 17 of the Titans, how do I think they'll be within 7.5 of a team twice as good as Tennessee?
At the same time, Atlanta seems to be playing better ball and the NFC South door is wide open after the Saints' bad loss to the Rams. This game shouldn't be that close.
Miami (+5.5) vs KANSAS CITY
Where I thought the line would be: KC -5.5.
This was one of my two coin flips, but since the line has moved to KC -6.5 after the Chiefs squeaked by the Chargers, I had to take the extra point. Am I worried that this line is so low because the Dolphins looked so good against the Giants? Absolutely. The Giants aren't that good. Hell, they might not even be regular good. But I have to stick to my convictions. I'm 95% sure Matt Moore is throwing 3 INTs in this game and Miami will lose 31-6, but I need to see this thing through. And I'm sure it'll end like the guy who saw the thing through in Super Size Me.
Tampa Bay (+8) vs NEW ORLEANS
Where I thought the line would be: NO -6.
Even if the line was Saints -4, I'd probably have abandoned my rule to pick the Bucs. These two always play pretty close games, the Saints have been noticeably bad since Sean Payton became the man upstairs (the Colts game doesn't count) and Tampa has had two weeks to get ready. I know New Orleans will be pissed, but I think it'll wear off early and we'll see a close game.
Cleveland (+10.5) vs HOUSTON
Where I thought the line would be: Houston -7.5.
This was the game I missed by the most, pretty much because even after following the Browns-49ers game, I have no idea what to make of Cleveland. And, much like the rest of America, I have no idea what to make of Houston (don't pretend like you do). Nothing outside of a Browns win would surprise me here. Texans by a field goal? I buy it. Texans by 30? Sure, I can see it. I will say one thing: Cleveland's defense is underrated. Hopefully we see that on Sunday.
Cincinnati (+3) vs TENNESSEE
Where I thought the line would be: Tennessee -1.
Remember that rule about home teams getting 3 points? This line basically says the 5-2 Bengals and 4-3 Titans are a push. Except they're not. Cincinnati is noticeably better. They can move the ball and play defense. The Titans can move the ball and play defense...against the Colts.
Denver (+8) vs OAKLAND
Where I thought the line would be: Oakland -5.5.
Tim Tebow isn't a great NFL quarterback. He isn't a good NFL quarterback. He isn't a mediocre quarterback. He isn't a bad quarterback. He's an awful quarterback. And yet, he's much, much better than Carson Palmer. I wouldn't give 8 points with Carson Palmer if they were playing the Denver Nuggets defense.
NY Giants (+9) vs NEW ENGLAND
Where I thought the line would be: NE -8.
You know what makes me sick? Betting on the Giants under any circumstances, but especially these. However, like I said earlier, I have to see this thing through. You think the Patriots want revenge from the 2008 Super Bowl? You think they want to get the taste out of their mouths from the Steelers loss? You think the Giants defense who got diced by Matt Moore for an entire half can stop Tom Brady? Me neither, but I'm hoping Eli Manning can step up to the plate against a terrible defense and at least make a shootout out of this matchup.
St. Louis vs ARIZONA (-4.5)
Where I thought the line would be: Arizona -4.5.
St. Louis looked too good. Arizona didn't look good at all. Don't be fooled by the score of that Ravens game. I'm pretty sure Joe Flacco was wondering how big a hole his team could dig by halftime and still win that game. He didn't do a great job... it only took until the first play of the fourth quarter for Baltimore to overcome a 21-point deficit.
But playing at home will be enough for Arizona in a matchup of 1-win NFC West teams. I didn't intentionally make this description as bad as this game will be, but it works, right?
Green Bay vs SAN DIEGO (+5.5)
Where I thought this line would be: GB -2.5.
Upset Special! San Diego 38, Green Bay 34. Not that New England did in 2008, but Green Bay doesn't have a good enough defense for an undefeated season. What better time to lose than to the Chargers who, while not great, are good enough to pull off this win. San Diego usually plays a lot better at home than on the road (more breaking news, grass is green). Call me crazy, but I have a sneaky feeling about this one.
Baltimore (+3.5) vs PITTSBURGH
Where I thought this line would be: Pitt -2.5.
The Ravens, while struggling a bit, destroyed the Steelers two months ago, but more often than not, you know you're getting a close game between these two teams. If a field goal decides it, I can't go wrong.
Chicago (+7) vs PHILADELPHIA
Where I thought this line would be: Philadelphia -6.
I probably can't name six Chicago Bears. Yet, I'm gonna go with them. The Bears have had two weeks to come up with a game plan for Michael Vick. They might have wanted to spend the two weeks preparing for LeSean McCoy, but I'm putting my faith in Brian Urlacher, even though any other week, I'd have picked the Eagles. They're clearly hitting their stride.