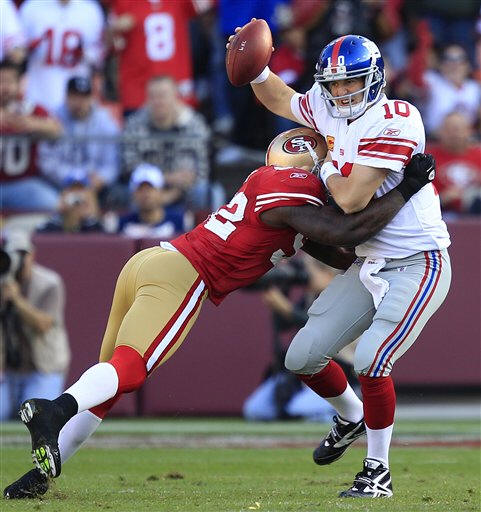 I have nothing to say about the Baltimore-New England matchup other than I think New England wins 30-24 and I hope that happens. Moving on.
Giants (+2.5) at Niners
Let's start from square one here. Going into last week's Niners-Saints game, I was nervous, but I knew San Francisco could beat New Orleans. They had a defense that the Saints hadn't seen this season with 11 different ball hawks on the field at all times. They hit hard and are fundamentally sound. They were and are a great defense. But you know what?
They're a pretty good offense too. A lot has been made this season about how the 49ers ground and pound. And by the second quarter last week, I was yelling at a TV in a bar by myself at Harbaugh for not going to the run against a Saints defense that allowed five yards a carry during the year. It wasn't that I didn't have faith in Alex Smith, it's that we had a 17-point lead and we could do the one thing you want to do against Drew Brees: shorten the game. Give him fewer possessions by milking clock and he has fewer chances to hurt you; simple as that.
Well, Harbaugh didn't do that, relying on Smith to try to keep putting up points. And it didn't really work until the last few minutes of the game.
You know the rest: four touchdowns in four minutes with four lead changes. Niners 36, Saints 32.
This week, I have the same feeling as I did against New Orleans: nervous because the Giants do a lot of good things, but confident the 49ers move on to the Super Bowl. My reasons:
1) Home-field advantage. The crowd was outstanding last week, not so much in causing New Orleans' offense to false start, but more so in firing up the team. I'm sure, like me, most of those fans didn't expect getting a home game for the NFC Championship, but they are and will be even louder on Sunday.
2) The forecast. It's already begun to rain and it's supposed to on Sunday, making San Francisco's notoriously slick field that much worse. If the Giants wideouts can't get good footing on their sharp routes, their passing game will not be as explosive as people think. Throw in some wind, which the forecast calls for, and it gets worse. That means the running game will be a big factor and the 49ers have two good ones. New York does as well, but San Francisco owns the best rushing defense in the NFL, so it could be tough for them to move the ball.
3) New York's offense against San Francisco's defense. Last week wasn't exactly the Niners best game and they still forced three turnovers on defense, two on special teams. The two matchups that everyone thought would give San Fran trouble, Jimmy Graham and Darren Sproles, didn't until later in the game, but the two were a handful. The Giants don't have those weapons, with Keith Ballard at tight end and Ahmad Bradshaw as their number one running back. Bradshaw is good, but he's definitely not Sproles. Also, New York has three awesome wide receivers in Hakeem Nicks, Victor Cruz and Mario Manningham, but San Francisco did well against the Saints' trio of Marques Colston, Devery Henderson and Robert Meachem.
4) The 49ers already beat the Giants in San Fran. Yeah, yeah, yeah this is a different Giants team. Well guess what? They were 6-2 when they went into the Bay Area and lost in November. You could argue, and I am, that New York didn't start sliding until after that game. Sure, they were missing Michael Boley in the second half, but the 49ers played the last three quarters without Frank Gore and won in large part to Alex Smith's play.
Of course it's going to be a good game, with both teams having their moments, but I know, once again, San Francisco can win this game.
49ers 23, Giants 20